Several years ago, a new solar-as-a-service company approached my business partners and me to discuss a commercial business partnership. Those were early days, 2006 and 2007. The model was very appealing. No significant upfront, out-of-pocket cost for businesses, in exchange for signing a long term power purchase agreement in which customers lock in a fixed price for electricity. As a business, you needed to be creditworthy and have the ability and the appetite to sign long term power purchase agreements. It is great to see more and more businesses deciding that PV projects are the right investments for them. The economics are compelling. Even solar residential is getting traction it seems (see this article in Greentech Media).
One meaningful question that came up at the time was whether the companies who purchased the systems also owned the green attributes, or renewable energy credits. Often solar installers would pitch the proposal, keep the solar credits (which was how they made their money), and the company that installed the system would take the heat for claiming that they were buying green power– without the green attributes they were making claims they couldn't support. There are a number of ways to address this issue– including having the company purchase renewable energy credits from some other facility, perhaps even in another state– to "green up" the power that they were consuming from their panels.
The bottom line:  Whenever you do a green power deal, make sure you understand what claims you can make about your purchase. Here is the range of claims that you can make, based on the way that you buy green power and the objectives that you have as a buyer.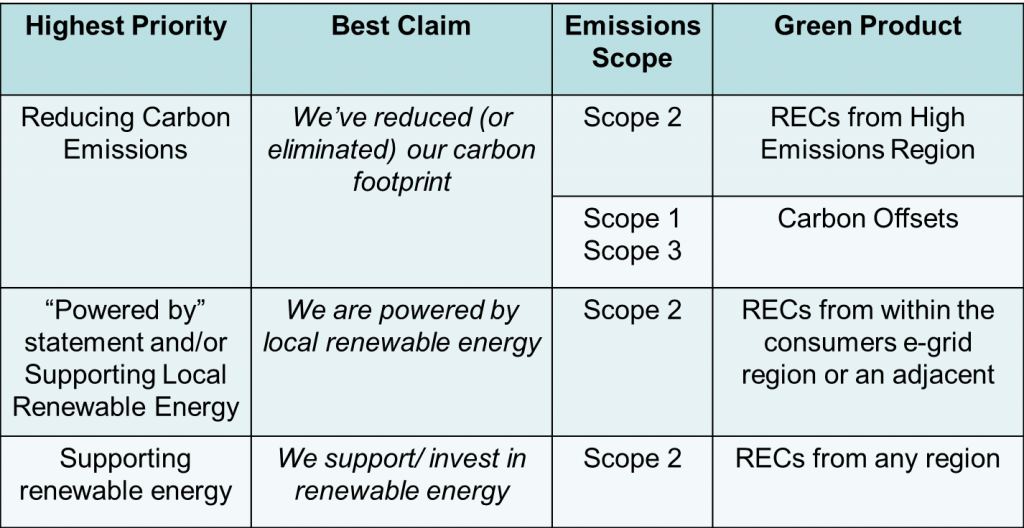 P.S. Here is a refresher that explains carbon accounting…