Here's a round up of what was happening this week in energy markets: First, an interview with Commissioner Philip Moeller on the status of Energy Regulation at FERC; Second, a look at political discord swirling around the new capacity zone that was put in place in New York State; and finally an effort from the Governor of New York to review and revise the way utility tariffs are set and how rules are made in the state.
This past week's Platts Energy Week TV round up included an interview with FERC Commissioner Philip Moeller. It is worth the 7 minute viewing. In the interview, he discusses: FERC coordination between gas and electric markets; thoughts about licensing energy traders; the economics of power generation; and the dynamics of electric and gas markets given recent efforts to phase out coal and close some power plants. It is an interesting interview about energy markets and news.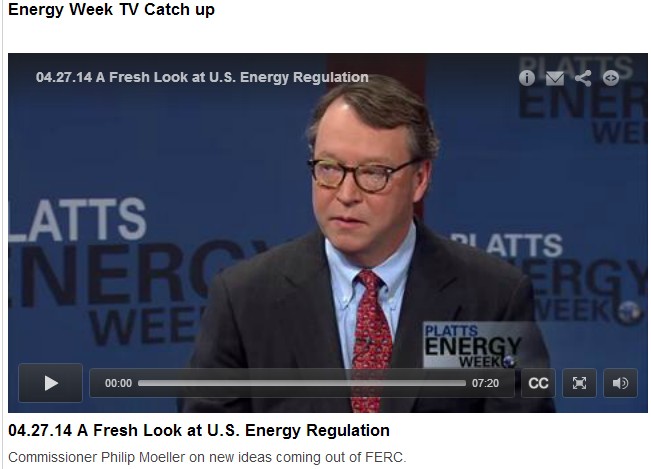 Bottomline for businesses: This video provides useful background information about the major drivers of power and gas costs, as well as some thoughts on the future of Federal/markets regulation.
Concern about new capacity zone
It is not clear that there will be an impact on costs and prices, but there was some political backlash about the new capacity zone set up by the NYISO (and approved by FERC) for the Hudson Valley and Westchester County. The NY Democratic Congressional Delegation delivered letters from constituents to FERC protesting the new Zone. Central Hudson, the utility, has also opposed the implementation of the new zone. The capacity payments for the new zone went into effect on May 1.
Bottomline for businesses: It is unlikely that there will be any major impact to businesses and organizations in the new capacity zones– it is difficult to roll back a new market structure after it is in place. It is worthwhile to note that this is an un-popular ISO/FERC decision that was not supported by a major utility nor by the Congressional delegation. It may bring greater scrutiny to future ISO plans.
The NY Public Service Commission is undertaking an initiative to explore major reforms to how electric utilities are regulated in NY State. According to the PSC:
The Commission has identified six core policy outcomes relating to customer knowledge, market animation, system-wide efficiency, fuels and resource diversity, system reliability and resiliency, and carbon reduction. A Staff Report and Proposal sets forth a vision for how to accomplish the Commission's objectives. The proposal describes how customer-side resources can become a primary tool in the planning and operation of the utility system, which will improve system efficiency and enable the deployment of cleaner and more resilient technologies. The Report further explains how reforms in the utility ratemaking process will be necessary, to provide the correct incentives for utilities and markets to develop a cleaner and more efficient electric system.
The process will take time and will likely evolve. But it represents a shift in thinking about how electric utilities may operate in NY State. Greentech Media put the proposed process in context of broader regulatory policy shifts in an article this week. You can view that article here.
According to the PSC, the next steps in the process are as follows:
Next Steps:
A public proceeding will examine and evaluate regulatory reforms that would be implemented to shape the roles and responsibilities of the regulated utilities and retail markets. The case will proceed on two tracks:
First track involves a collaborative process to examine the role of distribution utilities in enabling market-based deployment of distributed energy resources to promote load management and greater system efficiency, including peak load reductions.
Second track, undertaken in parallel with the first stage, but on a later timeline, would examine changes in current regulatory, tariff, and market designs and incentive structures to better align utility interests with achieving the Commission's policy objectives.
For details from the NY PSC, view the proceeding here.
Bottomline for businesses: A process such as this one can take a very long time to implement. Nevertheless, a major overhaul that includes examination of how rates are set by utilities can bring about new dynamics in markets that will, ultimately, impact businesses and institutions– and the goal of this effort appears to be to ensure that demand side and distributed technologies are more competitive and cost-effective to businesses and institutions.