How do supply costs compare to delivery costs?
We wrote a post about the supply-delivery cost dynamic 4 years ago. You can view that post, titled "A startling look at recent cost data" here. 
Back then, we said:
We have been accustomed to seeing supply costs comprise as much as 60-75% of a customer's total costs.  Now, as a recent forecast of costs shows, supply costs comprise about 45% of total costs, while transmission and delivery comprise 55%.
The significant reduction in natural gas, electricity and oil costs have resulted in a continued shift in the relationship between cost of supply and cost of delivery. When you compare supply and delivery costs for electricity, for example, you will find variances between facilities based on where your facilities are, how your local utility has managed utility delivery costs and how expensive natural gas and electricity prices are in your area.
So, what's happening now?
We just reviewed and updated data for several New York city clients. We found that supply costs averaged 46 – 48% over the last 12 months, while delivery costs averaged 52-54%.
Taking a close look at the dynamic between supply and delivery costs on a monthly basis can be revealing and can help energy users focus energy cost management time and investment.
Why? Let's take a look at the following graphic.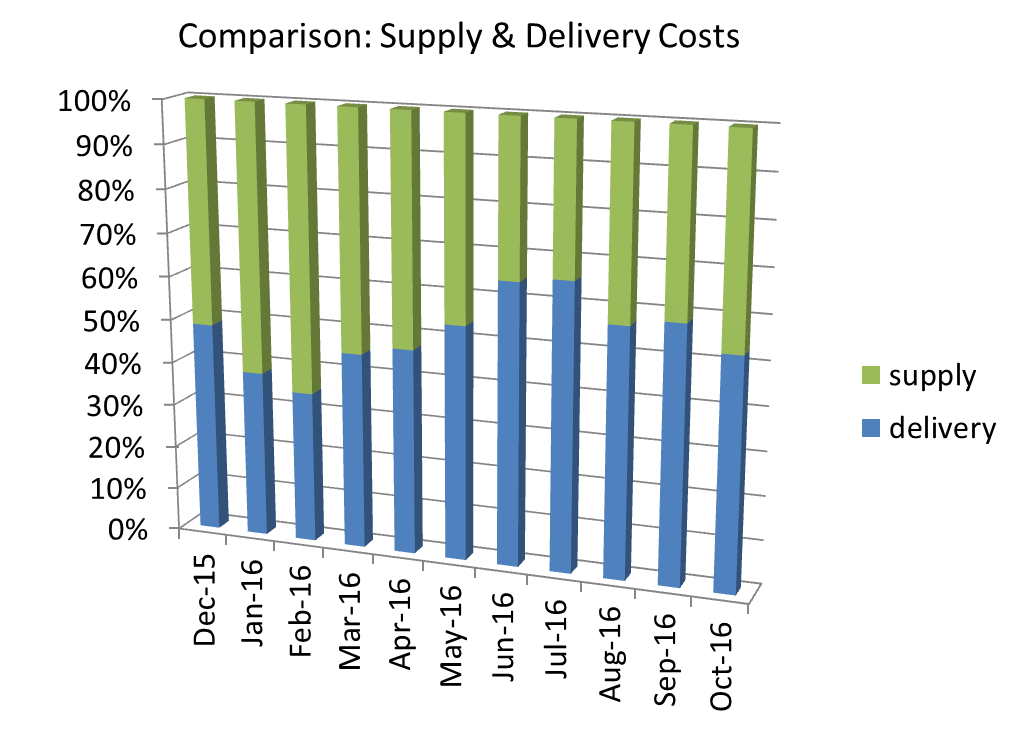 Supply costs comprise up to 70% of costs during the Winter months, and less than 30% of Summer costs. This finding is not a big surprise, given what we've reported here on the seasonal differences in electricity and natural gas costs. Winter is the peak electricity cost period in most of the Northeast now. During the Summer months, on the other hand, this dynamic shifts, sometimes dramatically. Delivery costs account for more than 60% of overall spending.
So what can you do with this information?
So in order to control and lower energy costs during the Winter months, it is best to focus on managing energy cost risk and to curtail overall kWh usage.
Delivery charges are based largely on the single hour peak demand in each month, not on the total energy consumption. The best course of action for managing energy costs in the Summer is to focus on managing peak demand. This approach has the additional benefit of positively impacting your future electricity supply costs as well.
Bottom line for finance and energy professionals: 
It makes sense to focus more on overall energy consumption in the Winter months when energy prices are highest, but delivery charge rates are lower. 
In the Summer, focus more on managing hourly peak loads which will not only save energy costs but also return savings in delivery charges and reduce capacity costs (which have a long term impact on supply costs).