MWh usually posts articles focused on commercial, industrial and institutional clients. The following guest post targeted to homeowners resonated with us because home financing shares many of the characteristics that energy markets do: 1) there is a mis-match of information between the market players and the product consumers; 2) the markets lack transparency and, as a result, customers can overpay for products.
What you need to know about PACE energy loans
Guest post by Nicole Hamilton, expert in consumer home financing products, founder of Homeownering.com.
Home financing, Financial products, Home
PACE loans, or Property Assessed Clean Energy loans, are becoming more popular with homeowners looking to make energy improvements. PACE loans are not without risk. Here's what you need to know about them.
What is a PACE loan?
PACE loans are set up by local governments to enable homeowners to make energy-efficient and renewable energy upgrades to their homes. Private lenders provide the funding. These loans range in size from about $5,000 up to $100,000 with interest rates between six and nine percent. The period to repay the loan can vary from five to 25 years. A PACE loan is technically attached to a property, not to an individual.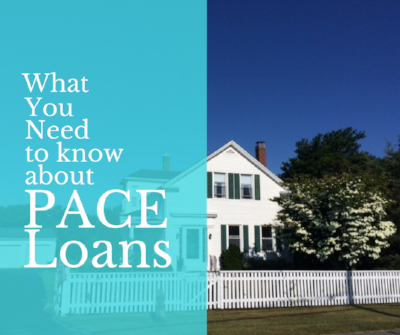 Who can qualify for a PACE loan?
Most any homeowner in an area where PACE loans are offered can qualify for a loan. There is no down payment requirement. Loans are based on the value of a homeowner's property.
There is typically no analysis of whether a homeowner is able to pay back a PACE loan.
How do you pay back a PACE loan?
The debt is added to the homeowner's property tax bill which gets paid back once or twice a year. That means that on top of your property tax, you'd need to pay the amount that you owe on the loan, which can be considerable, depending on the size and term of loan that you received.
What happens if you can't pay back your PACE loan?
You can get foreclosed on. The way the debt works is that the PACE lender gets paid back before even your mortgage company. So if you don't pay your loan, the lender can initiate a foreclosure on your property.
What happens if you sell your home before the PACE loan is paid off?
According to the Department of Energy, "the repayment obligation may transfer with property ownership, if the buyer agrees to assume the PACE obligation and the new first mortgage holder allows the PACE obligation to remain on the property. This can address a key disincentive to investing in energy improvements, since many property owners are hesitant to make property improvements if they think they may not stay in the property long enough for the resulting savings to cover the upfront costs."
In other words, if you sell your home, the new owner is obligated to repay the loan, as the loan is attached to the property, not to you. The new buyer would have to factor this into the sales price, along with the risk of foreclosure if they are unable to meet the annual, or biannual, payments. Also, a bank would need to accept that there is a PACE loan obligation on the property for the new buyer to get a mortgage on their new home.
With these factors, a PACE loan could complicate your ability to sell your property, unless you pay it off ahead of time.
What sort of consumer protections are there around PACE loans?
There are fewer consumer protections around PACE loans compared with other types of loan products, such as refinancing or home equity lines of credit. The Wall Street Journal reported that contractors and handymen were offering PACE loans to homeowners in exchange for commissions, and in many cases, homeowners were not informed of the details of the loans. Some states are creating laws that require better consumer disclosure.
Overall, there are few laws that require PACE lending companies to either market fairly to consumers or explain the terms, leaving homeowners open to misunderstanding.
Should you get a PACE loan?
Especially since there is little consumer protection around PACE loans, it is extremely important to understand clearly what the actual terms are, how much you will have to pay every year, when the loan will be paid off, and understand that if you do not pay your loan, your home can be foreclosed on.
Also, make sure that you explore other options for financing to see if there is a better deal out there for you before taking a PACE loan, especially given the risks. PACE loans are often higher interest rate loans than other forms of loans such as a home equity line of credit and are often four or more percentage points higher than a cash-out refinance, for example.
A few additional thoughts from MWh on the nature of PACE loans
The PACE Program was set up to make energy efficiency investments easier to finance for both commercial and residential property owners. According to the US Department of Energy:
The property-assessed clean energy (PACE) model is an innovative mechanism for financing energy efficiency and renewable energy improvements on private property. PACE programs allow local governments, state governments, or other inter-jurisdictional authorities, when authorized by state law, to fund the up-front cost of energy improvements on commercial and residential properties, which are paid back over time by the property owners.
It is meant to address the issue that many energy investments have– the payback sounds great, but how do I access the upfront capital? The premise of the entire program is that the operating cost of a property will decline and its value increase once the energy measure is installed. Both commercial and residential property owners should be better off after taking a PACE loan.
What information should residential and commercial property owners access before they finance an energy-saving measure?
In addition to Nicole's advice, above, MWh recommends that all property owners insist on complete transparency about the energy usage, efficiency, cost and savings that are expected to result from PACE-financed measures.
Don't take initial promises of savings at face value: insist on understanding the assumptions behind the savings– what fuel costs are implied? what usage levels? Get the details.
Nicole Hamilton is an expert in consumer home financing products. Her site, Homeownering.com, lets homeowners stay in control of their household expenses, including financing. Sign up to receive Homeownering's free updates here.