Any news of cooler temperatures these days sends the 12 month strip price for gas and power up. Major reports show cooler weather in the Northeast likely starting around December 7th. As a result, we have seen another spike in the 12 month strip price for both gas and power.
Even though the weekly storage report seems likely to a draw that was lower than last year (thanks to relatively mild temperatures through November), the expectation is that if cooler temperatures settle in and remain, market prices will rise. We are already seeing that impact in the forward curves for gas and power. Take a look at Seeking Alpha's expectation for this week's natural gas storage report.
What is the EIA Storage report and why care about it?
Great questions!
First things first: Each week, the Energy Information Agency reports on natural gas inventories. That's also known as "the storage report". To follow, see last week's EIA graph which compares current inventories (blue line) to the 5 year average and to the 5 year max and min range.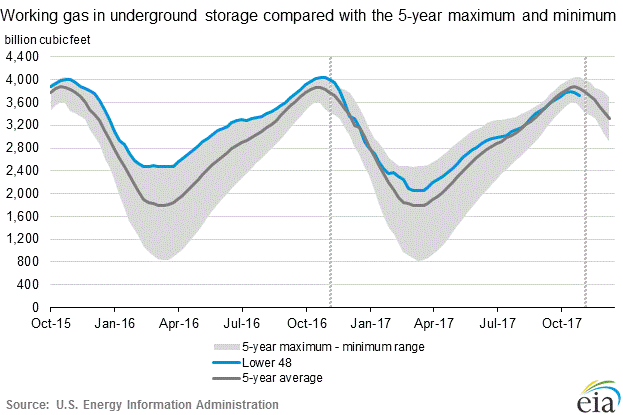 Why care about the storage report? Market Realist did a great article on why the market pays so much attention to the storage report.
Here is a link to that article, and a summary of important details in the article:
Natural gas consumption in the US is very seasonal. Consumption is highest in the winter, when heating demand is highest, as about half of US households use natural gas for heating. Storage levels decline during these months. Producers restock natural gas storage between April 1 and October 31, which is also called the "injection season.

Markets monitor inventory levels every week to determine if inventory levels will be high enough for the winter. If winter demand is strong, the available natural gas in storage could be strained.

 Inventory levels have a direct bearing on natural gas prices…When there are supply constraints because of strong heating demand, particularly during winter, natural gas prices can spike.
We think of ourselves as planners and long term information providers. Not short-term thinkers. The truth of the matter, however, is that you can't deny the impact of EIA's storage report on markets and pricing. So we have to understand it and consider its impact, particularly during the Winter months.
Bottom line for energy experts and financial decision makers: Our habitual advice regarding markets persists in the face of market movements like the ones we're seeing this week. Don't panic, and don't make hasty decisions based on short-term market movements.
Ideally, you should not make decisions at in-opportune times (especially right before the Winter or Summer peaks). Try not to be in a position in which you have to make a purchase now for a contract that begins in January. If you are in a position in which you have to make some kind of purchase, remember that markets have been persistently low– check your budget and if you see power or gas prices that work within your budget expectations, act on them. Also, remember that you don't have to purchase all of your requirements at one time. Seasonal purchasing and hedges can work well. 
Talk with us about what you should expect to pay this Winter