Energy data: What's the problem?
Every energy manager we work with must address the challenge of successfully navigating and manipulating energy data. When we first launched The Megawatt Hour, even we didn't realize how important the software's automated data management process was. Given our background in retail energy markets, we believed that managing data was just an essential part of the process. Then, as we started to provide customers with our services, we realized that automated data management added significant value for our customers.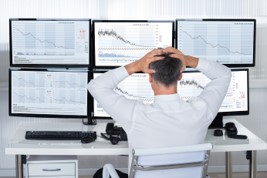 3 data issues every manager must address
Data management is slow and usually manual. Updates take days, even months. Many energy managers only get to update their data once a year.
Manual updates end up in spreadsheets. How can anyone make sense of rows of data?
What do you do with the missing data? Missing details? How do you interpret the rows and detailed data?
Properly implemented, customers can access a goldmine of information in their data. As a result, energy managers can unlock significant savings and a great deal of value. Check out this article to read more about the value of energy data to managers.
The Power of Analytics
Here's the big secret: People don't need energy data, they need information. Let's take a look at what energy managers can do when they spend more time on analytics and less time manipulating data.
First, they can identify anomalies much more quickly, before a change in energy rates or usage contributes significantly to budget problems.
Second, automated analytics can validate a job well done. In truth, the work of the energy manager is often somewhat obscure. Managers only get attention when there is a problem. Accessible, share-able analytics can demonstrate how effectively a purchasing strategy or energy management program works.
Third, energy managers are in a better position to take control when they can spend time on analytics and forecasting. The fact is, easily accessible analytics allow energy managers to plan and manage in a proactive way.
Bottom line for energy managers and finance professionals: Data and analytics can sometimes be an after thought for energy managers. Energy data can be incredibly powerful when it is transformed into useful analytics.