How do business electricity comparison sites work? 
Business electricity comparison sites work by collecting and comparing information about different energy suppliers and their tariffs. They then use this information to generate a list of energy plans that are available to businesses in a particular region, along with the estimated costs of each plan.
To use a comparison site, like this one, you typically enter your zipcode, business size, and energy usage information. The site then searches for available energy plans online, scrapes pricing data from available websites, and presents pricing to you in a simple format, allowing you to compare them side by side.
Business electricity comparison sites can be helpful for businesses looking to save money on their energy bills. By comparing different energy plans and suppliers, you can often find better deals and lower rates than you might be able to find on your own. Additionally, comparison sites can help you understand the different options and features available with each plan, making it easier to choose the plan that best fits your business needs.
Why use a comparison site and what should businesses look out for when comparing rates on an electricity comparison site? 
What are the pros of using a business electricity comparison site? 
If businesses are looking for a quick understanding of the market price for electricity, a comparison site can be helpful. These sites will provide you with a likely range of energy costs. They can save you the time and effort of asking for specific pricing and will likely help you avoid the hard sell from an energy broker or supplier. 
If you're interested in more specific pricing or cost forecasts, technology like MWh's energy cost management system can help.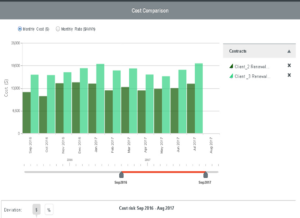 What are the cons of using these sites? 
Keep in mind that business electricity comparison sites will provide you with highly generalized pricing.
You simply will not get the best energy price by going to a shopping site.
Here's why. Energy suppliers have to carefully manage price and cost risk. To learn more about how suppliers price electricity, take a look at this article, "The 3 Top Reasons Why a Pricing Model is essential for energy cost managers". Any supplier that is looking to sign business through a comparison site is adding significant margin to their quoted price. The supplier doesn't know much about your business, so they will add margin to cover: price risk, execution risk, credit risk. 
A customer's specific usage profile can have a significant impact on the rate that you ultimately pay. And it should! For example, let's say that you run a manufacturing business with consistent energy demand and reliable usage. Suppliers love pricing accounts like yours. You should definitely request direct pricing from a supplier for your business. You will get a much better rate. In fact, it is usually true that customers should make an effort to get account-specific pricing, especially if you are a medium to large commercial client. 
Bottomline for businesses: To get the best rate, you have to engage with a supplier. Share your information and usage data with them and get an account-specific price. Business electricity comparison sites should be part of your research, but you shouldn't sign a contract based on pricing that you receive from a comparison site.